Details

Hits: 8
"Babcock (now Karp) Barn"
History of the "Babcock/Karp Barn"
Mid-1800s - "Babcock Farm"
"John Calvin Babcock was born on Dec. 2, 1834, in Craftsbury, Vermont, of Scottish parents. He married Margaret Simpson and settled on the farm they called "The Peak" [now Babcock Hill]. Their son Armour Babcock, born in 1891, married Emma McLaren and farmed on the Shadow Lake Road. Armour's son Foster married Elizabeth Coffin in 1916 and also farmed on the home farm, which was sold in the 1960s to the Larry Karps. Armour's sister, Mellie, married Alpha Gebbie.
 - The History of Greensboro: The First Two Hundred Years, pg. 37.
1960s - "Karp Farm"
20xx - 
.
Details

Hits: 10
"Richardson (now Circus) Barn"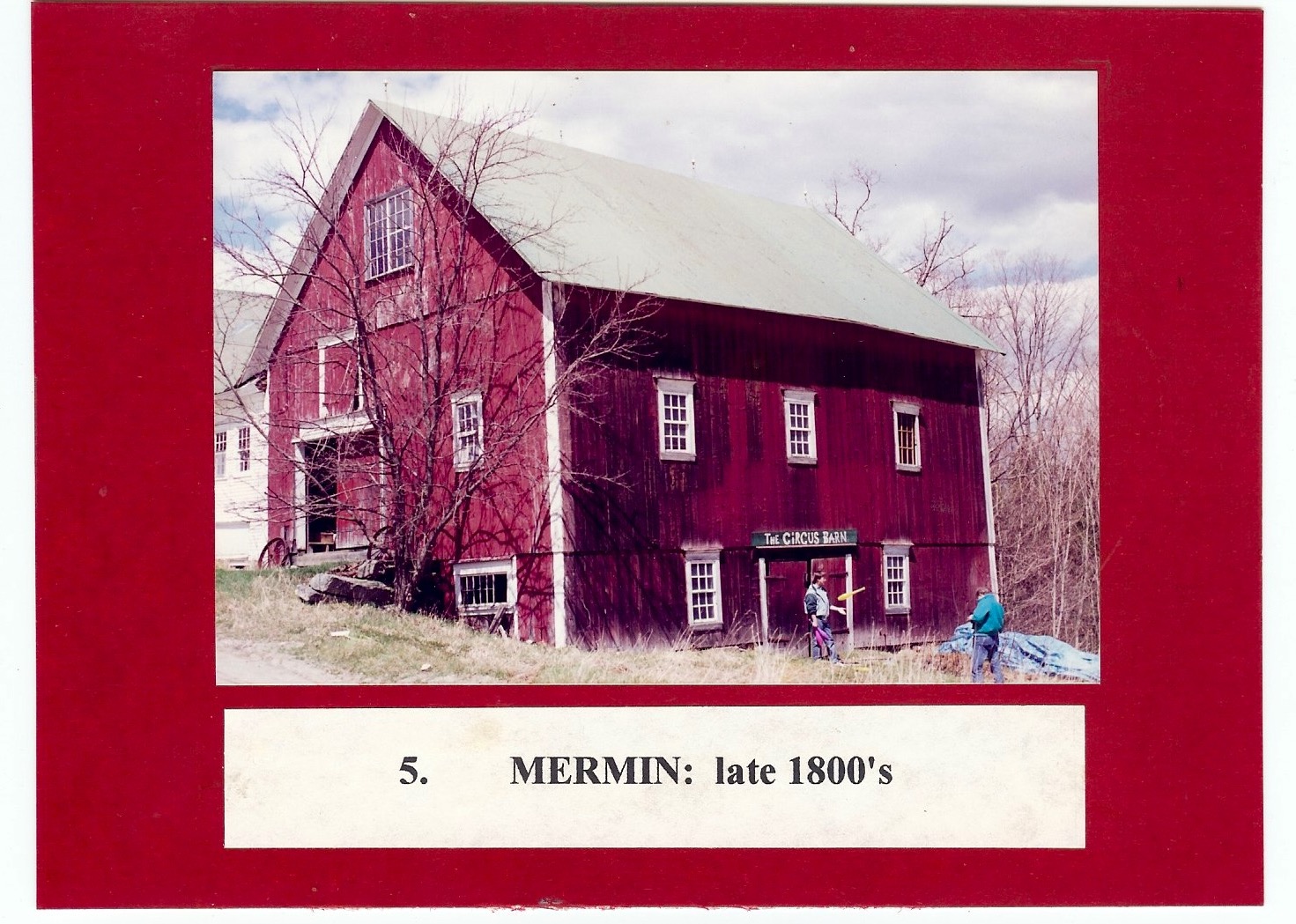 History of the "Richardson/Rob Mermin Circus Barn"
Early 1900s - "Richardson Farm"
"John Richardson and his brother George both farmed on the Hazen Road in the early 1900s. John married Mary Kendrick , and they had five children. Ann, Jeannette, and Robert all lived in town, and Robert continued on the family farm. He married Mary Marshall of Canada and had two children. One of George's sons, Henry, married Delores LeBlanc and farmed on Country Club Road [now L. Irish]." - The History of Greensboro: The First Two Hundred Years, pg. 103.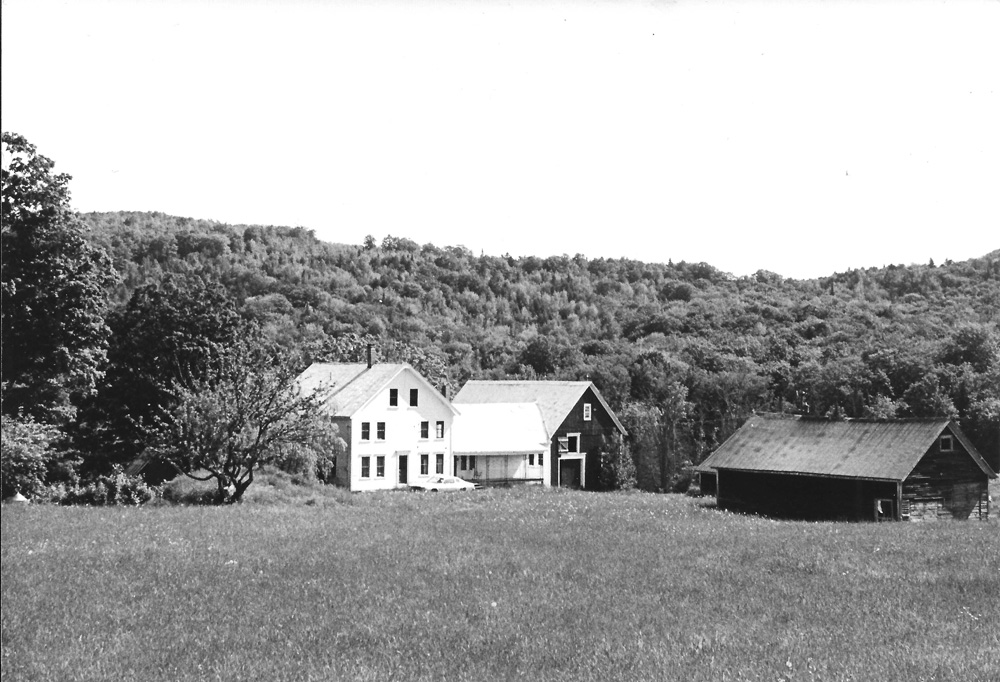 Richardson Farm property purchased by Rob Mermin (~1980s) - Photo by Peter Watson
1984 - "Circus Barn"
"In 1984, circus performer Rob Mermin bought the Rob Richardson farm on the Bayley-Hazen Road. The following Fourth of July, Mermin (who had run away to join a Welsh circus at nineteen, studied mime two years under Marcel Marceau in Paris, and picked up other circus skills in Denmark and Sweden) put on a community circus at the town hall green. Townspeople Mary Young, Snow Wakeman, Wilhelmina Smith, and Pam Hurst helped plan the acts and train village youngsters. Community membes of all ages participated.

Mermin then established a non-profit circus school in his barn where Vermont children could acquire skills in juggling, tightrope walking, trapeze, acrobatics, and clowning. In 1987 and 1988 the most talented students trained several weeks in the Circus Barn, then toured with Mermin, his dog Rufus, and five professionals, performing under a big tent in a dozen Vermont towns. During the winter, Rober Mermin worked as artist-in-residence in Vermont schools offering week-long enrichment programs.

Twenty more youngsters trained at the Circus Barn in the summer of1989 and performed once again in the traveling Circus Smirkus."
- The History of Greensboro: The First Two Hundred Years, pg. 103.
20xx - 
.
Details

Hits: 7
"Robinson (now Buckley) Farm"
History of the "Robinson/Buckley Barn"
Date - "Robinson Farm"
Horse racing was popular at the beginning of the century. There was sulky racing in the Bend and a half-mile track on the Robinson Farm [now Buckley] where Andrew Hill trained "Terrible Sid" and "Hanniker Girl." Racing fans also frequented a track behind Ward Bailey's farm [now LeBlanc] on Hardwick Street. The "Street" itself often became a "drag strip" as sleighs or buggies raced the two-mile straightaway. Old-timers also recall a lot of hooting' and hollering' and racing by sleighs on Caspian Lake in winter. - pg. 88
19xx - 
.
20xx - 
.
Details

Hits: 13
"Witherbee Barn"
Lewis Atherton Barn fixed-up by Witherbee (photo: 06/02/2005)
History of the "Witherbee Barn"
~1870s - "W.B. Simpson Farm"
1908 - "Lewis and Cora Atherton Farm"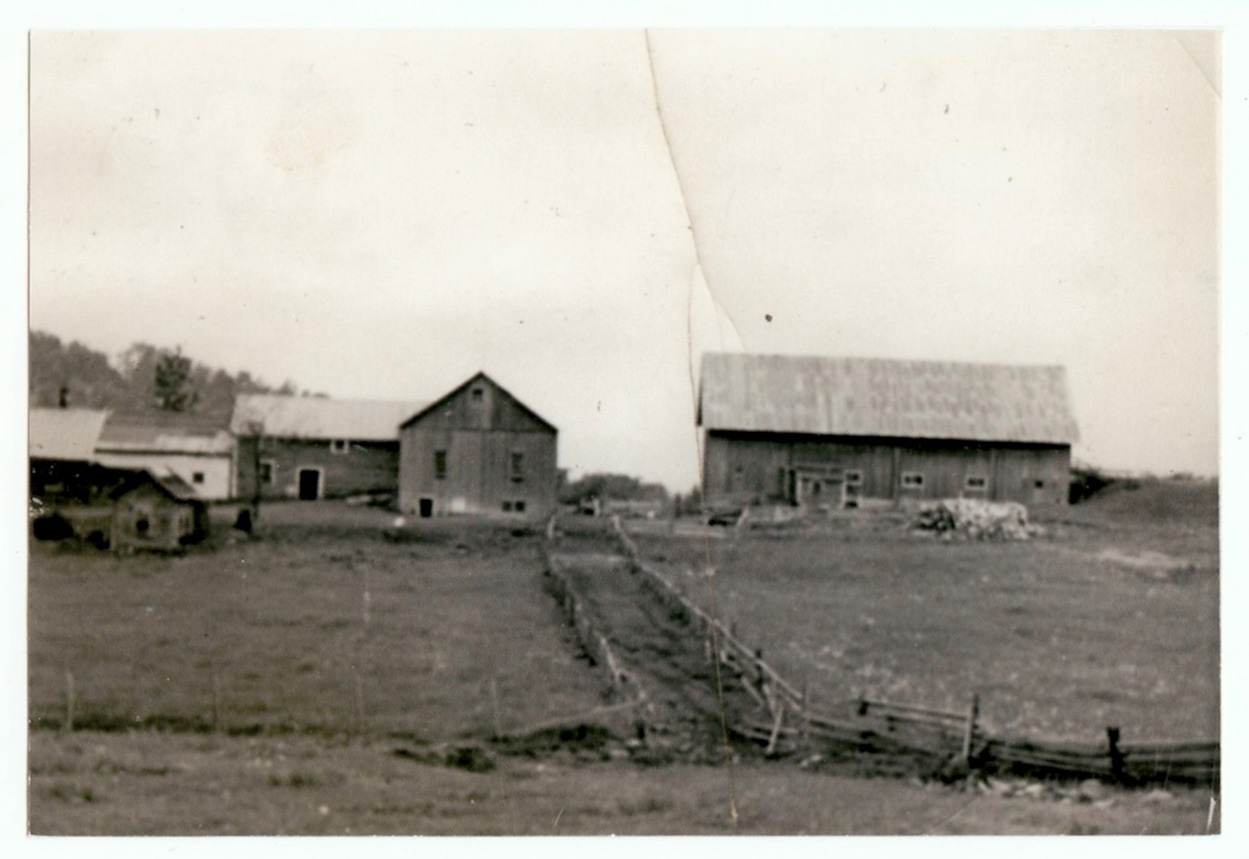 1990 - "John (Jack) and Mary (nee Osbourne, Downing Beckwith) Witherbee" Farm
. 
20xx - "Downing Family"
.
Details

Hits: 9
"McIntyre Barn"
History of the "McIntyre Barn"
19xx - X Farm
19xx - McIntyre 
.
201x - Hill
.