Details

Hits: 0
"McIntyre Barn"
History of the "McIntyre Barn"
19xx - X Farm
19xx - McIntyre 
.
201x - Hill
.
Details

Hits: 1
"Jaffin Barn"
History of the "Jaffin Barn"
1898 - Ritchie Farm
These photos (below) show the barn raising at Ritchie Farm in 1898. On the back of the photographs the location is given (possibly erroneously) as Hardwick, VT. In the Greensboro town history, "The History of Greensboro: The First 200 Years" on page 84, the location is identified as North Greensboro. Originals located at Cobb Schoolhouse -- Donated by Eleanor McQuillen.
19xx - Jaffin 
.
201x - Hill
.
Details

Hits: 25
1996 Summer Exhibit: "History of Greensboro - 1781-1860"
(as compiled by Thomas & Barbara Woodward)
The Greensboro Historical Society's 1996 Summer Exhibit/Activity/Presentation
---
In 1996, the Greensboro Historical Society organized an exhibit to characterize the first 100 years of the town. This page includes the town charter, early property and area maps, information about the Bayley-Hazen Military Road, and images with descriptions from the permanent Hill Family Exhibit. Below, please find a scrapbook of information that represents the exhibit at the GHS museum.


Click here for PDF of the
History of Greensboro
from 1781-1860
Contents
Greensboro Town Charter
Greensboro Proprietor's Map circa 1788
Greensboro 'Early Settlers' Map (1789-1810)
Greensboro Village Maps (1859)
James Whitelaw's 1794 map of Greensboro
Bayley-Hazen Military Road
Hill Family Exhibit
Hardwick Gazette Article about Exhibit
---
---
Greensboro Town Charter
---
Greensboro Proprietor's Map circa 1788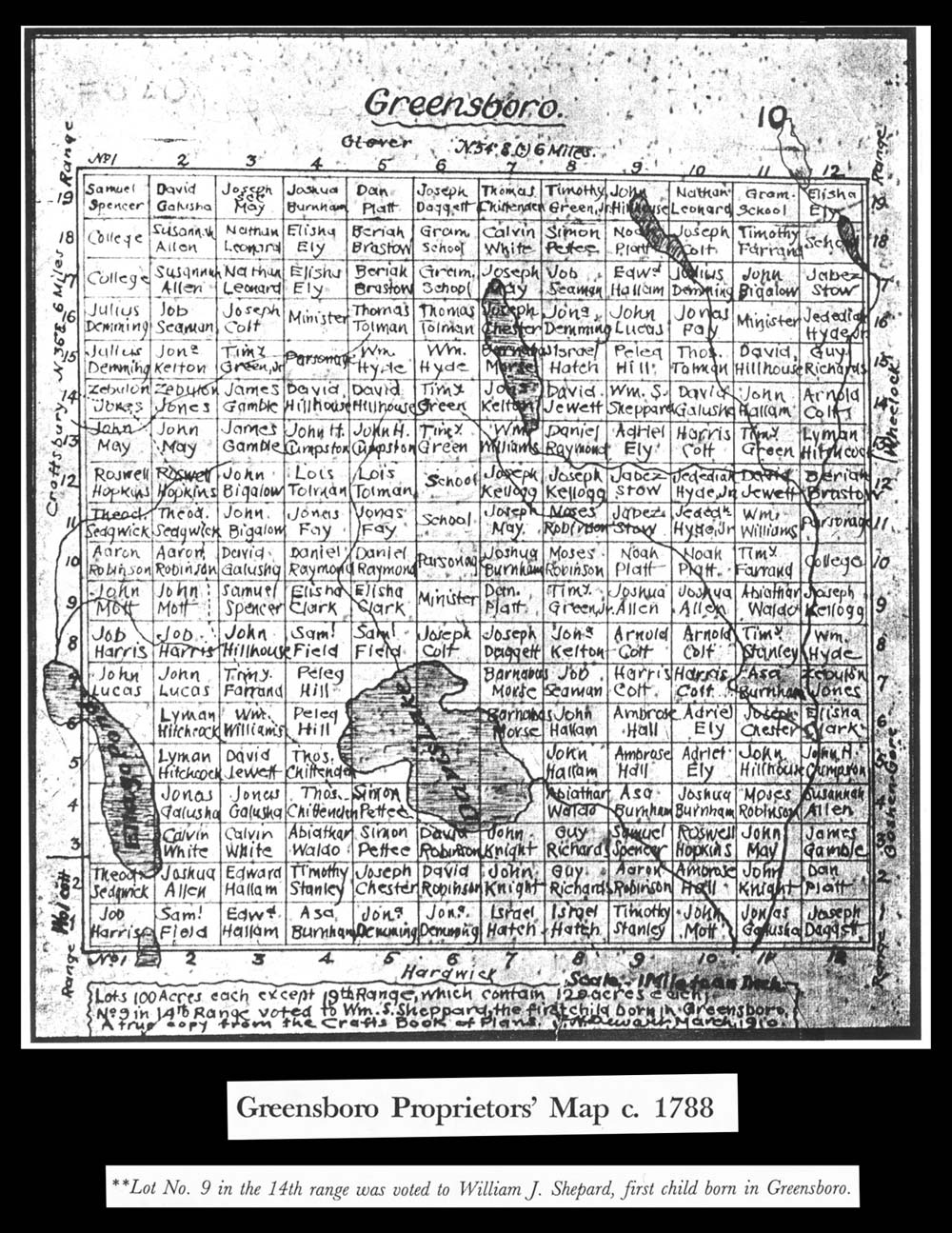 ---
Greensboro 'Early Settlers' Map (1789-1810)
---
Greensboro Village Maps (1859)
---
James Whitelaw's 1794 map of Greensboro
---
Bayley-Hazen Military Road
- excerpted from the bicentennial history of Greensboro -

THE BAYLEY-HAZEN ROAD During the French and Indian Wars (1756-1763) a series of military roads were built to facilitate the movement of men and materiel from Southern New England towards northern New England and Canada so that American troops would be in a better position to defend against the French army or its Indian allies. Southern New Hampshire had been fairly heavily settled by 1761 and a road had been build from Charlestown, New Hampshire, across Vermont to Crown Point on Lake Champlain. After the English victory in Canada and the start of the American Revolution, the enemy was no longer French but the English and their Indian allies. By the beginning of the Revolutionary War in 1776 settlers and some militery forces had moved as far north as Newbury, Vermont (settled in 1761) and Wells River.

Benedict Arnold and Richard Montgomery had led an ill-fated campaign to capture Canada for the American forces in 1776. During that time, the head of the American or colonial militia in Vermont was Colonel Jacob Bayley of Newbury. Colonel Bayley felt that a road going north directly to Canada from the vicinity of Newbury would greatly shorten the route to Canada. He ordered one Thomas Johnson to lead a small party overland from Newbury to St. Johns on the Richelieu River in Quebec, blazing the trail as he went, and determining the distance involved. Colonel Bayley sent the report to General George Washington and urged him to support the building of the road.

Bayley instructed James Whitelaw of Ryegate to lay out the route for such a road. Whitelaw, who was to become Vermont's second Surveyor General (Ira Allen was the first), must have already been familiar with the geography of northern Vermont since he had helped lay out the boundaries of its early towns.

Bayley began work on the road in 1776 following Whitelaw's survey. With 110 men he built a road passable by wagon to a point six miles above Elkin's place in Peacham Village at a cost of 982 pounds. The men were paid the equivalent of ten dollars per month, board, and one-half pint of rum.
But a series of military reversals in the north forced Washington to advise Bayley to abandon the project since there was now a serious threat that the enemy might use the road to invade northern New England. Bayley quit the road building project and, to add insult to injury, was repaid only about a quarter of his own investment. General Washington, with new plans for a Canadian campaign, ordered General Moses Hazen of Haverhill, Massachusetts, to resume work on the road in 1799 and to recruit his regiment for an attack on Canada.
Hazen extended the road to an area known as Cabot Plains and then to Walden, where he built blockhouses. Hazen then continued the road to Greensboro, where he erected a blockhouse on the western side of Caspian Lake similar to the ones he had built on Cabot Plains and in Walden. The road continued north past what is now Campbell's Comers and went straight up the hill curving around Mt. Sarah, running more or less parallel to the present road to East Craftsbury, entering that village on the other side of Cate Hill.
But news of troops retreating from Canada told of more military reversals in the north, and the blockhouses along the road, to say nothing of the settlers, who had come up as far as Peacham, felt themselves to be in precarious state, indeed. Small wonder that Hazen's men became discouraged: they were poorly clad, many without shoes. The flies were particularly bad that summer. Hostile indians and possibly English troops were rumored to be advancing. In October Hazen retreated to the south. and a company of militia from New Hampshire held the Peacham fort (12 miles north of Peacham).
Indian scouts who had been order'to hold the Greensboro blockhouse did not fare as well as others. Two of them, Constant Bliss of Thetford, and Moses Sleeper of Newbury were shot down and scalped. Their companions, having offered no resistance, were led captives to Canada and were later released in an exchange of prisoners. The remains of Bliss and Sleeper were later buried in an uncoffined grave.
The Bayley-Hazen Road was never extended beyond Hazen's Notch (in Montgomery) and was unsuccessful as a military road. It was, however, of great importance in the settlement of northern Vermont. The Town's first settlers, Shepards, Hills, Stanleys, and others came along it. It is possible that Colonel Bayley had this in mind when he asked George Washington for funds to build the road.
At the time of the Nation's bicentennial in 1976 the road was traced and marked in each township. Some portions follow existing roads but much of it is now overgrown hillside or swamp.
---
Hill Family Exhibit
---
Hardwick Gazette Article about Exhibit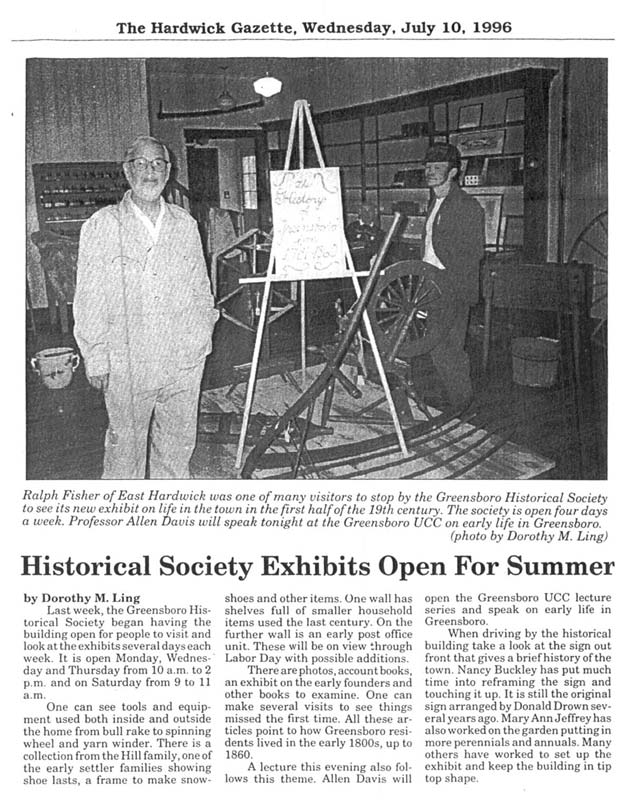 Details

Hits: 6
"Niemi Barn"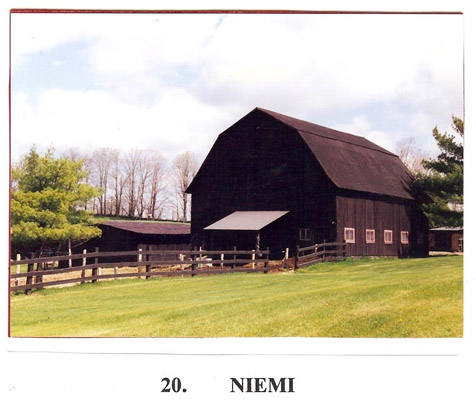 History of the "Niemi Barn"
1950's - Achilles DesLaurier Farm
Achilles DesLaurier worked as a carpenter and farmer. He and his wife had thirteen children.
1989 - Niemi 
Bill and Martha Niemi now own the old DesLaurier Farm.
Details

Hits: 172
"Sunday School Barn" (now Ranz Family) on Country Club Road

History of the "Sunday School Barn"
1795-1922, Hale and Jackson Families
This land has been farmed since the late 1700's when Asabel Hale, born in Connecticut in 1773, came to Greensboro in 1795. On June 25, 1817 the First Sunday school Convention in New England was held in a barn which he had just built on this site. Israel Jackson bought the farm around 1850 and passed it on to his son Walter A. Jackson. Around 1880, a new, bigger bank barn with one cupola was built surrounding the earlier barn, which is still visible from level one. Alpha Jackson, son to Walter, born in 1874 built the addition with second cupola on the barn sometime before 1920.
1922-1990, Wilson Family
In 1922, Alpha Jackson sold the farm to Irwin Wilson. The Wilson farm milked approximately 35 registered Jerseys. They also had horses, pigs and chickens. All the work was done with horses until 1940 when Wilson bought a John Deere. Between 1922-1950, up to eight acres were planted in potatoes. On the ground level of the west side of the barn is a large potato cellar and some of the old potato harvesting equipment is still in the barn. Sometime before 1950, Wilson halted the dairying operation and stopped growing potatoes because of the drop in prices. The Wilsons used their large house to board summer people and served big meals to the boarders and other customers. The farm was well known for its beautiful views and level fields. After World War II, a summer resident used the fields there for about 5 years as a landing strip for his small airplane. Robert Wilson acquired the farm in 1968 and has since then rented out the farm house. There is a large sugarbush on the farm and a 1930's sugar-house where the sugaring operation continues. Fields on both sides of the barn were sold between 1980-1990.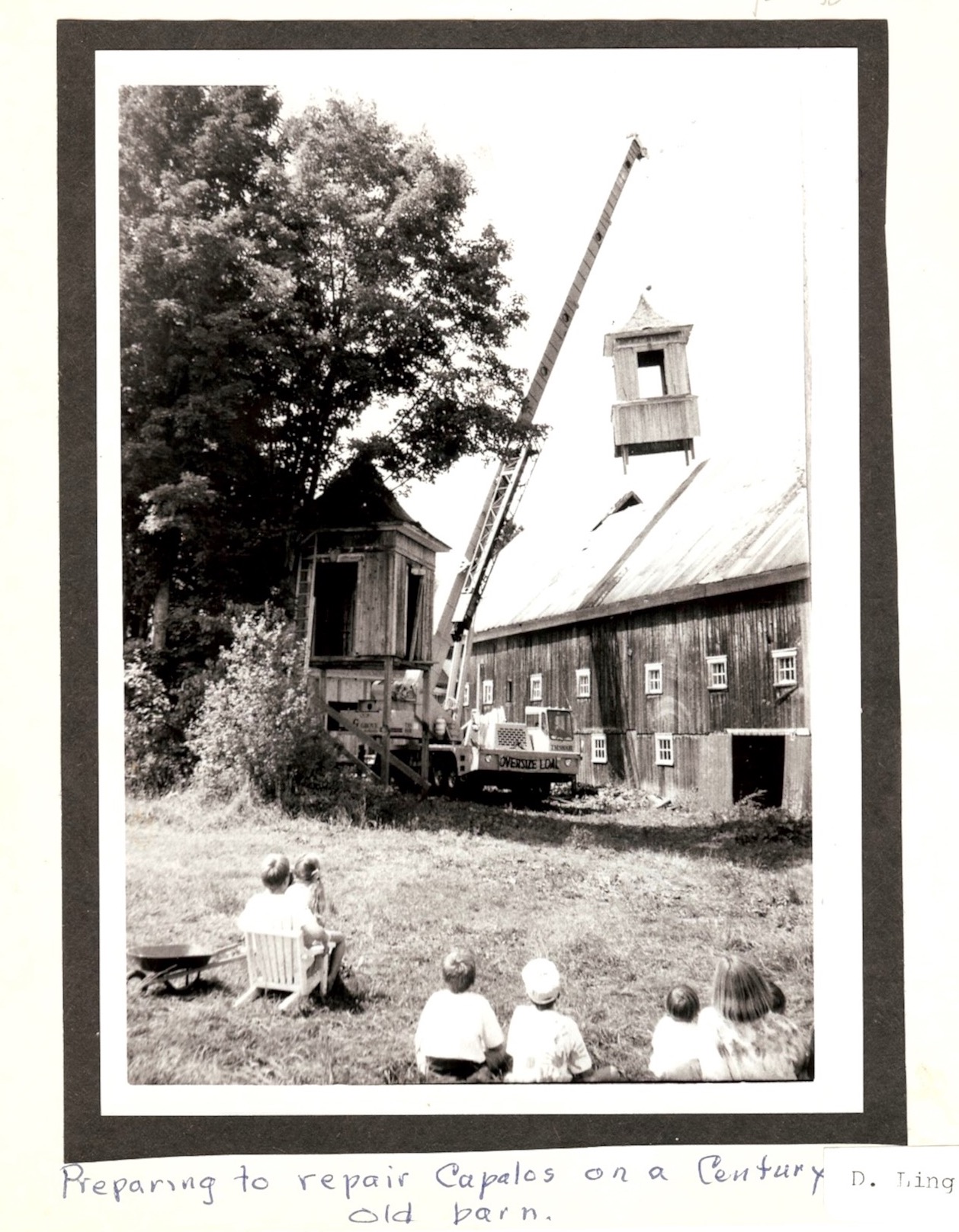 1990-Present, Schleifer (Ranz) Family
The Schleifers bought the barn and 16 acres in 1990. There are many old fruit trees and well established hedgerows which attract a large variety of birds. New fruit trees and berry bushes have been planted along with a variety of deciduous and evergreen trees. The fields continue to be hayed and manured. There are wood stanchions for more than 35 cows on the main floor and some horse stalls. The catwalk to the west end cupola is still useable. The roof has old wood shingles covered with asphalt and metal. Jan Lewandoski has repaired the structural support of one of the cupolas and done much of the restoration of the wing. Foundation and drainage work along one side of the barn was completed recently by Everett Kinsey.