2021 Summer Exhibit:
"Highland Cattle: Proud Heritage"
The Greensboro Historical Society's 2021 Summer Exhibit
---
From July 6 through August 31, 2021, the Greensboro Historical Society focused on the history of Highland Cattle in Greensboro. This heritage breed has been a part of our town for over fifty years. The exhibit, presented some of the artifacts, trophies, photos and information about Ray Shatney and Linda Steward's award-winning herd as well as information about other breeds of cattle in Greensboro.

Exhibit Poster
---
One Highland cow purchased in 1967 by Carroll Shatney for his Shat Acres farm in North Greensboro was the beginning of the now 150-head herd, the oldest registered Highland herd -- and one of the largest -- in the United States.

Th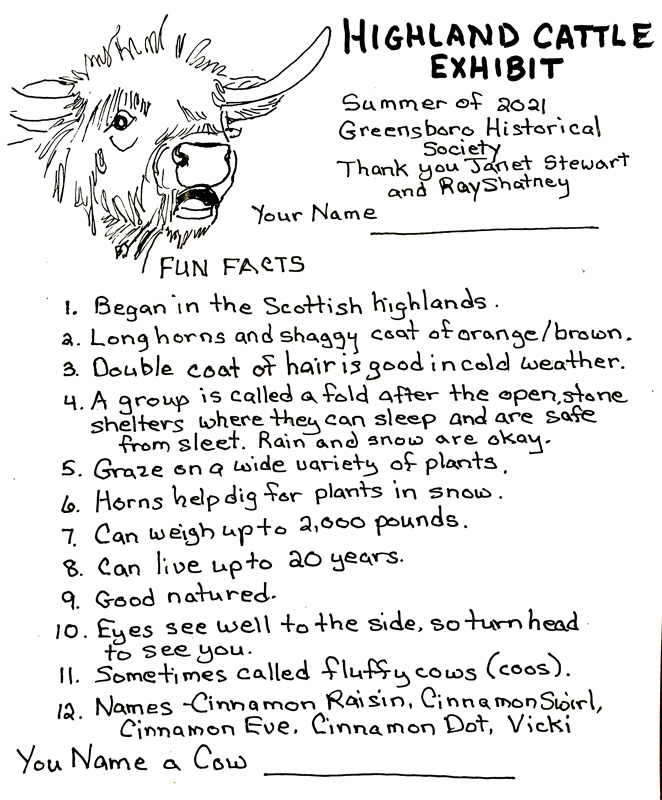 e herd, currently owned by Ray Shatney and Janet Steward, has included Grand Championship-winning cattle and yields highly celebrated Greenfield beef products. Our summer exhibit shared the history, achievements, success, and community involvement of these carefully managed cattle. As one newspaper headline in the exhibit read, Greensboro is "Steep Hills, Narrow Roads and Prize-Winning Cattle." We are proud to have Highland cattle as part of Greensboro's history.

With the generous help of Mr. Shatney and Ms. Steward, we developed a fascinating exhibit about these unique cattle. The GHS building was bedecked with ribbons won by the Highland cattle (now pastured in both Greensboro and Plainfield), plaques and prizes filled the shelves, and displays included newspaper articles, family photographs, a Highland cattle hide, an informative video, and more.
Headlines such as "2021 AHCA Roll of Excellence Heifer of the Year: Shat Acres Raisin Brandy" and "Farmer Spotlight: Shat Acres Highland Cattle and Greenfield Highland Beef," as well as "Highland Beef Big Hit at the Big E" and "Shat Acres Cow and Calf Named Grand Champions" all demonstrate the variety and interest of the exhibit and the award-winning quality of the cattle. During our annual book sale and ice cream social, lucky visitors had a chance to meet and pet two Highland calves.

Despite a generally slower stream of people this year due to COVID-19, multiple school field trips came to the GHS summer exhibit and visitors' names filled up our guestbook! GHS would like to say a big thank you to Ray Shatney and Janet Steward for their help with this exhibit, as well as for sharing the real and fascinating lives behind the photos and awards.
A scrapbook of this exhibit is available to view at the GHS museum.
---
When: 2021 Summer (July 6 through August 31)
Where: Exhibit at GHS Museum 
---

The Exhibit
The exhibit featured several panels with historical photos of the farm, family, and the herd amongst clippings of newspaper and magazine articles, book entries and exhibition ribbons.
The exhibit included a 'match the breed' section (below), a coloring station and an electronic matching board created by Leo and Amelia Circosta. See if you can match all the cow breeds below!
---
---
Shat Acres
Old and recent news articles recounted the history of Shat Acres from Carroll Shatney's early work with dogs to catch calves to the growth of the herd. Photos of the family and farm over the years helped to anchor time and place to Greensboro; but also to exhibitions across the country.
---
---
Community Involvement
Shat Acres' success with their Highland herd was often met letters of commendation as well as appreciation from those that benefited from their knowledge and charitable nature. This part of the exhibit shared a sampling of the many letters of thanks for their generosity.  Ray and Janet received notes from U.S. Senator Sanders, GHS president Nancy Hill,   Center for an Agricultural Economy, Vermont Foodbank, Sterling College, Vermont Agency of Agriculture and many more local, regional and national entities. 
---
---
Beef
Documentation of the Ray and Janet's career goes beyond their show-winning Highland herd to include the personal notes of thanks for the beef from their herd. This part of the exhibit showcased laudations from customers from around the world as well as mentions and features in the news. Ray and Janet feature in articles with 'question and answer' sections about what makes their beef different; and the farming methods for raising high-quality beef cows are presented. Cooking recipes calling for Highland beef as well as an article about their Highland beef in a culinary TV show were on display.
---
---
Trade Publications and Press
The exhibit included articles on the history of the Highland cattle breed, their place of origin and how people became interested in supporting their genetic line. It also documented some of the older periodicals like "Highland Cattle Society of Scotland"'s first herd book from 1885 and a news article from "The South Dakota Stockgrower" from 1954.  Information from these sources also documented the first Highland cattle brought to the United States.

In 2021, a cow from Ray and Janet's Highland herd featured on the cover of the wall calendar for the "Heartland Highland Cattle Association.
---
---
Awards and Honors
The exhibit, while filled with colorful stories, was also filled with colorful awards taking shape as ribbon, medals, plaques, trophies and letters of commendation. There were newspaper and magazine articles (both local and national) about the awards as well. Images of Ray and Janet with their show-winning cattle and award banners span their career with the Highland herd. There was also general information about cattle shows and the process of breeding award-winning cattle.
---
---