Summer Presentation:
"Timothy Hinman: Hero or Rogue?"
Presentation by researchers
Gail Sangree & Peggy Day Gibson
The Greensboro Historical Society's 2021 Summer Presentation
---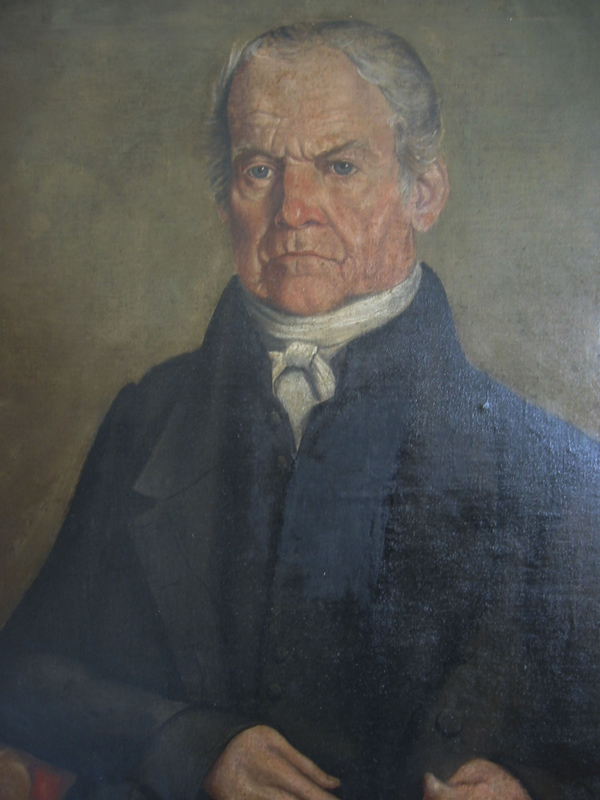 Portrait, Timothy Hinman
Around fifty members and guests of the GHS met on August 9 in Fellowship Hall to learn more about the life and accomplishments of Timothy Hinman, a remarkable historical figure who spearheaded the construction of a wilderness road leading from Greensboro to Derby in the early 1790s.

Peggy Gibson, retired director of the Orleans County Historical Society, spoke first of Hinman's many accomplishments, including learning surveying in the Revolutionary Army after being recruited at the age of fifteen, leading the construction of the Hinman Settler Road, founding the town of Derby, and serving as both a county judge and a state legislator. Gibson then presented many more details about the Hinman Settler Road, both historical and present-day.

Gail Sangree, who has done extensive research on Timothy Hinman, then spoke on other aspects of his life. Highlights of this in-depth talk included learning of the difficulties Hinman experienced trying to keep his own expenses separate from those of his new town and hearing the story about how he got into financial trouble after borrowing the then-enormous sum of $11,000 from the Vermont State Bank. As a result, he spent several years in jail before again being elected to town office.

Hinman died in 1850, and his tombstone described him as a "faithful, honest, just and good man." It was then up to the audience to decide if he was a rogue or a hero. When hands were raised, approximately 50% voted for rogue and 50% for hero! Perhaps that is the best one can hope for in a life well-lived.

When: August 9th (Monday) at 7:00pm
Where: Fellowship Hall of the Greensboro United Church of Christ


---
"Timothy Hinman: Hero or Rogue?"
Part 1 with Peggy Day Gibson
Click on the image below to view a video of the presentation 
"Timothy Hinman: Hero or Rogue?"
Part 2 with Gail Sangree
Click on the image below to view a video of the presentation 
---
---
Hinman Settler Road sign
(corner of Lauredon Ave and Craftsbury Rd - Across from Grange)
| | |
| --- | --- |
| Sign (previous) in Greensboro across from Grange | Sign (current) in Greensboro across from Grange |

(Permission to re-print and augment this map given by Orleans County Historical Society/Old Stone House and Historic Village)
---
---
Dedication of the Official Hinman Settler Road Sign
On July 21, over fifty people gathered at Tolman Corner to dedicate an historic site marker commemorating the starting point of the Hinman Settler Road, which linked Greensboro to the Bayley-Hazen Road and points north to Derby.

Timothy Hinman (1761-1850) carved the road into the wilderness between 1792 and 1793 to help open up northern areas for broader settlement. The road eventually became part of the stagecoach road between Boston and Quebec. The new sign complements a similar sign in Derby honoring Hinman's founding of that town. 
The dedication event featured talks by Laura Trieschmann, state historic preservation officer, and Gail Sangree, an authority on Timothy. Attendees included two descendants of Timothy Hinman, Conrad Bellavance and Paulette Brochu-Colburn, who praised the effort. Additionally, the group enjoyed a performance by the Northeast Kingdom Sacred Harp Singers, who shared songs written in that era. 
For additional information, visit the GHS for a map of the Hinman Settler Road or purchase a copy of this year's Hazen Road Dispatch, available for sale locally at the GHS, Willey's, Smith's Store and the Galaxy Book Store.
Hinman Settler Road sign produced by
Vermont Division for Historic Preservation - 2020
Laura Trieschmann, state historic preservation officer, speaks at the sign dedication
of Hinman Settler Road state sign at Tolman's Corners
(adjacent to town charter sign)
---
---
Greensboro section of Hinman Settler Road
(Detailed map by Amelia and Leo Circosta)